Fencing
Chain Link Fence
At F.P.C. Industries, we have been installing and selling all types of chain link fencing in Saskatchewan for more than 35 years. During that time, we have learned that there is no substitute quality workmanship. Put the experts to work for you on a chain link fence by calling or emailing F.P.C. Industries.
Ornamental Iron Fencing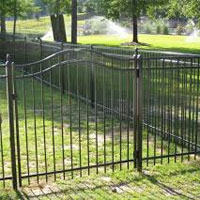 There is no better way to add beauty to your boundaries than with an ornamental iron fence. At F.P.C. Industries, we have the knowhow and tools to handle install and repair for even the largest, most complex iron fences. Let the pros at F.P.C Industries take care of all your iron fence needs.
PVC
There are many ways to make your property more appealing to customers and clients. A PVC fence can do just that. F.P.C. Industries can help with PVC fences. With options like vinyl, or wood and whatever paint you need, we can match any aesthetic. Call or email today about getting the perfect picket fence for your business.