Chain Link Fencing
Residential Chain Link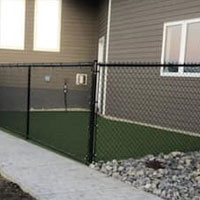 Galvanized chain link fence is the most durable, economical and versatile fence system for residential, Commercial, and industrial applications. As an attractive alternate to galvanized, Vinyl (colored) chain link mesh is available in Black White and Brown. Powder coated posts and fitting to match the colored mesh provides for an aesthetically pleasing fence. For added privacy, specially designed privacy slats can be inserted into the Chain link Mesh at any time.
Industrial/Commercial Chain Link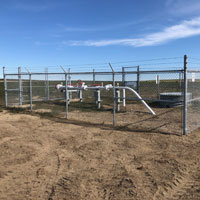 Chain Link Fence is the most popular and widely accepted fence system for security in Commercial and Industrial applications. Typical applications include perimeter fence, utility enclosures, portable panel enclosures and even storage locker cages. The most common Fence for compounds security is 6ft high with 3 strains of barbwire on top.